Skateparks: Trace and Culture
Dan Johnston
Western Sydney University
---
Abstract
Skateparks are undeniably youth-orientated spaces where contoured bowls, smooth concrete, steep ramps and angled ledges carry the embodied expectation that the sole purpose of the space is for skateboarding. Upon close inspection though, visible signs and traces reveal other activities occurring – meeting up, hanging out, hooking up, dropping out, graffiti-ing and worshiping, to name a few. 
This article presents a variety of visual traces that have been captured from over 60 skateparks, spanning six countries, where the resulting material demonstrates the complex relationships that occur both with and within these youth spaces. From the inane to the deeply personal, recurring traces demonstrate the important role that the skatepark plays in youth culture.
Introduction
Skateboarding is unique in the way it operates as both a sporting discipline – complete with world championships – and as a deeply rooted cultural entity that provides an archetypal facade by which skateboarding and skateboarders are identified. The term 'skater boy/girl' concocts visions of sneaker-wearing, casually dressed kids whose style has changed little through the rise and fall and rise (and fall and rise) of skateboarding over the last 60 years. Craig Stecyk's photographs of the first 'rock star skateboarders' of the 1970s faithfully capture the lifestyle aspects of skateboarding and the burgeoning skate culture that has acted as a blueprint for all that has come after (See Fig 1). Rather than focus entirely on the physical act of skateboarding, Stecyk often turned his lens towards the skaters themselves, documenting the unique personalities, fashion and identities that were alive at the time. On a more contemporary level Ed Templeton's numerous high profile exhibitions and publications depict a focus on skate culture that proves furthermore that the non-skating aspects of a skateboarder's life are culturally rich, compelling, worth documenting and celebrating (See Figure 2).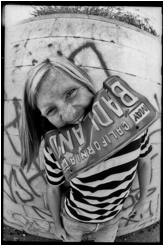 Figure 1. "Jim Muir with Don Hoffman's Badlands Licence Plate" by C.R.Stecyk III. Dogtown Chronicles, 2014, http://juicemagazine.com/home/dogtown-chronicles-jim-red-dog-muir/.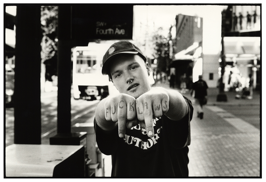 Figure 2. "Crust Punk Kid," by Ed Templeton. Photographs to Encrust Your Brain With, 2012, http://toymachine.com/ed/2012/06/.
On a practical level skateboarding offers a variety of positive physical and social needs within a youth-orientated age group, and beyond (Bradley (2010; Hetzler et al 2011). On a physical level skateboarding provides participant access to a pursuit that develops coordination, endurance and balance. On a social level it is said to harbour great potential for developing social and entrepreneurial skills (Jenson et al. 387) as well as identity (Shannon 2008). Tomlinson et al (2005) have suggested that skateboarding represents an avenue:
… for sporting participation and social engagement for men and women, young and old, who have been alienated by traditional school-based and institutional sport practices (2005, p.8).
And yet, despite the documented benefits of skateboarding, skaters continue to suffer an image problem. They are often viewed as 'problems' or 'nuisances' (Woolley, 2001, p. 215) because skateboarding is sometimes practised in public spaces, which has led to a perceived risk to public safety as well as property damage. Negative public attitudes such as these marginalise skateboarders from the broader community, thereby cementing preconceptions of skateboarders as being 'risky', 'devious' and 'unsavoury' (Taylor et. al, 2010, p 499).
Despite the critics, skateboarding is deeply rooted in mainstream culture (Borden 2015) and has even been incorporated into some school sporting curriculums both in Australia (NSW Department of Education, 1999) and abroad (Borden, 2015). In support of the positive aspects of skateboarding, Jensen et al (2012) argue that:
… rather than legislate or design out skaters, civic leaders would benefit from allowing skate scenes to colonize and re-invent parts of the city as a wholly natural part of a city's fabric (2012, p. 387).
In his recent Guardian article, Borden (2015) cites pro-skating initiatives that are opening up the urban landscape to skateboarding where skate-friendly features are designed into the civic architecture. It is heartening to see that some councils are slowly transforming attitudes from that of intolerance to actively welcoming skateboarding, which adds 'artistic, cultural, educational and commercial value to our urban lives' (Borden, 2015).
Constructed space
In Borden's (2001) seminal text, Skateboarding, space and the city: Architecture and the body, skateboarding is described as being practised in both 'found space, and constructed space' (p. 57). To understand these terminologies better, one must be acquainted with the two definitive skateboarding styles that skaters align themselves to – street skating, and 'vert' skating (a shortening of 'vertical').
Street skating in its purest sense is practised in found space, where the skater explores and appropriates the pre-existing urban landscape – streets, schools, shopping plazas, drainage ditches, and many more. In found space the skater is utilising the built environment for activities that it was not otherwise designed for (Jenson 371).
Vert skaters, on the other hand, skate on transitioned ramps in purpose built skateparks , or constructed space. These skateparks mimic the ocean wave, and hark back to skateboarding's roots as an activity practised by surfers when the ocean was flat. Seeing as such vert features are uncommon in the found environment, the vert skater relies on purpose-built skateparks for their preferred terrain (see Figure 3).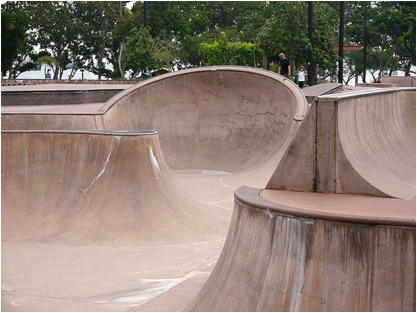 Figure 3. Singapore's East Coast Park offers the skater features that are not usually found in the natural urban environment.
While I have defined skateboarders as belonging to either a street or vert identity, crossovers exist between the two groups. Within most skatepark environments, specific space is dedicated to street skating and vert skating. The street skater will skate on features that mimic the street or urban environments (see Figure 4). These 'contrived spaces' (Wallis, 2015) offer the park skater many of the features that the street skater seeks out in the natural urban environment – hand rails, ledges, gaps and stairs.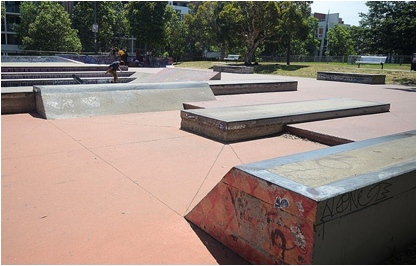 Figure 4. The stepped ledges of Waterloo park in Surry Hills replicate the features found in the natural urban environment.
Building on Borden's definitions of found and constructed space my research has established a third definition – the re-constructed space. This term refers to a skatepark that has undergone a transformation at the hands of users as a way of affirming ownership. Re-constructers of space embed social and cultural knowledge and meanings linked to place and history, which go on to form part of a sub cultural language of place. Such narratives may not be immediately evident to a casual observer.
For example, graffiti at a skatepark is often viewed on a macro level where graffiti is either present or absent. But on micro levels – when we read, analyse and understand the graffiti – we discover relationships that occur between the user and the space. Visual traces that I have documented include material phenomena such as graffiti, littering, embellishments, stickers and vandalism. Indeed, as I have come to see it, any re-construction which has altered the original skatepark, both structurally and non structurally, can be valued for the insights they give to the cultural and social practices of the skaters who use the space, and the broader culture to which they belong.
Developing the research context
During the developmental stages of my Doctorate of Creative Arts, my research plan focused on photographing a series of skateparks and documenting the ways in which skateparks are used. My objective was to consider the elements of skatepark culture and to explore the environmental and social factors that affected skaters' usage and experiences of the skatepark. After travelling to more than 60 skateparks across Australia (England, France, Spain and Singapore), I amassed a vast collection of images that demonstrated that all skateparks were similar in their intended function, but each was vastly different in design, material construction, location, patronage and condition.
Drawing on 20 years of photographic experience and the visual literacy that comes with working in the creative industries, I began to analyse the photographs, searching for meaning in the commonality and differences between the skateparks I had visited. Initial observations included the geographical location of the skatepark and their propensity to locate them in sporting precincts; the material construction and design of the skateparks; and user-added features such as graffiti. This reflective process soon became a process of discovery as I worked my way through my archived folders, starting from the top – Alice Springs, Barcelona, Batemans Bay, Bathurst, Bellingen, Blackheath … 'click' open an image, 'click' close an image. 'Click' concrete ramp, 'click' graffiti, 'click' beer cans wedged in fence, 'click' bags strewn around step, 'click' Miss you bro R.I.P Pau/.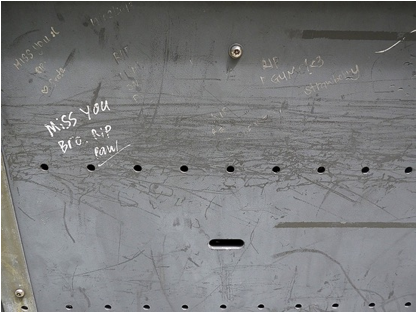 Figure 5. Epitaphs found at Bishan Road Skatepark, Singapore.
The photograph is from Bishan Road Skatepark in Singapore. It is a sideview of a grey steel ramp with five small pieces of graffiti written in what appears to be white correction fluid. The most legible message reads 'Miss you bro. RIP Pau/' (see Figure 5). The remaining four messages all refer to the same Rest In Peace testimonial.
These small pieces of graffiti spark a memory … I don't close the image, but click through to a new folder. Paris, The Globe. Another epitaph, 'RIP GINA'.
And one more – this time, as far from Paris as you can possibly get – Coober Pedy, South Australia, 'The Legend'.
Here was an occurrence of a recurring trace that transcended continents but shared the same canvas—the concrete surface of the skatepark. It led me to wonder: what was this place that is so often vilified by the general public, and sometimes referred to as a breeding ground for male centric macho-ism and the anti-social behaviour that comes with it and yet acts as a place to recognise and remember a fellow skater who has died?
The chance discovery of the epitaphs triggered a framework for seeking out other visible traces that illuminated the different uses of the skating space; uses that it was not otherwise designed for. With newly found purpose, I began to trawl my image bank for other recurring visual traces, only to see my research travelling in an unexpected and very exciting dimension of spatial knowledge, based on intervention and traces of human action.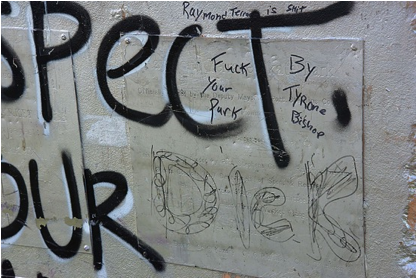 Figure 6. Traces shed light on the culture of a place.
Building trace typologies
At a skatepark every visual trace, large or small, visible or invisible, intentional or otherwise sheds light on the culture that resides in and utilises that particular space. The smallest piece of graffiti is a trace of the cultural life that exists within the context of the localised skatepark. Likewise, the very skatepark itself is a trace, and represents the broader skateboarding culture (see Figure 6). Anderson states that:
Traces are most commonly considered as material in nature (material traces may include 'things' such as buildings, signs, statues, graffiti, i.e. discernable marks on physical surroundings), but they can also be non-material (non-material traces might include, for example, activities, events, performances or emotions) (Anderson, 2010, p. 5).
Investigating the notion of re-constructed space, I have utilised non-intrusive observation and photographic practices to document the instances of found visual traces. The resulting visual typology of repeating signs, symbols, affiliations and declarations reveals a cultural vocabulary that is shared from skatepark to skatepark, country to country.
The process that I work through when I document a space follows a set routine of non-intrusive observation and photographic documentation. An initial walk through the skatepark allows me to get a sense and feel for the space, and to familiarise myself with the main user groups – both skaters and observers. As a standard practice I inform the users of my intentions and material focus and the fact that I am not photographing any human subjects.
Once I begin photographing my focus turns to instances of signs and symbols that have been repeated across two or more sites. In general terms these signs and symbols could be placed into four categories: graffiti, embellishments, stickers, litter and structural vandalism. Each main category can be further unpacked. For example, common repeating graffiti themes include drug references, RIP testimonials, territorial statements, political statements, personal attacks, brand affiliations, love testimonials, obscene and commissioned. Structural vandalism tends to be focused on either skateable features of the park such as damaging the ramp, or non-skateable features such as rubbish bins and signage.
With respect to the large variety of visual traces that I have documented I have focused this article on three recurring themes – epitaphs, stickers and embellishments. Each has been identified for the depth of narrative that is embedded into the trace, reinforcing the cultural importance of the space.
Photographic approach
As a photographer, I am in a position to influence how the viewer perceives the subject matter through the way that composition and light are manipulated. Using photography for this research, however, requires an objective approach. I am less concerned with the aesthetic qualities of a particular visual trace and more concerned with documenting its very existence. Adopting the photographic style of the New Topographic Movement has provided me with a conceptual and technical framework. Pioneered by Berndt and Hiller Becher in 1960s post-industrial Germany, members of the New Topographic Movement tirelessly documented the disappearance of particular instances of industrial architecture in northern Europe. The structures that were photographed shared similarities in design, such as water towers, coke ovens and silos. These were presented in formal grids, referred to as typologies, which celebrated the unintentional beauty that occurred within these relics. Relying on common photographic techniques of lighting, composition and depth of field, the focus was on the ordinariness of subject matter.