This is our second publication of a selection of papers based on the School of Humanities and Communication Arts' Postgraduate Conference 'Interventions & Intersections'. As with our previous publication (Volume 4 #2 issue for 2010), the papers have been selected to reflect the diverse range of contributions made by presenters with a focus on the high quality of the School's Higher Degree Research students.
I would like to acknowledge the dedicated work of Dr Rachel Morley and Dr Milissa Deitz who have guest edited this issue, the work of the editorial management team in the planning and execution of the issue, especially Myra Gurney and Roman Goik, and the support provided by Suzanne Gapps, our editorial assistant. Thanks as well to all those who have responded to our referee requests.
Hart Cohen
---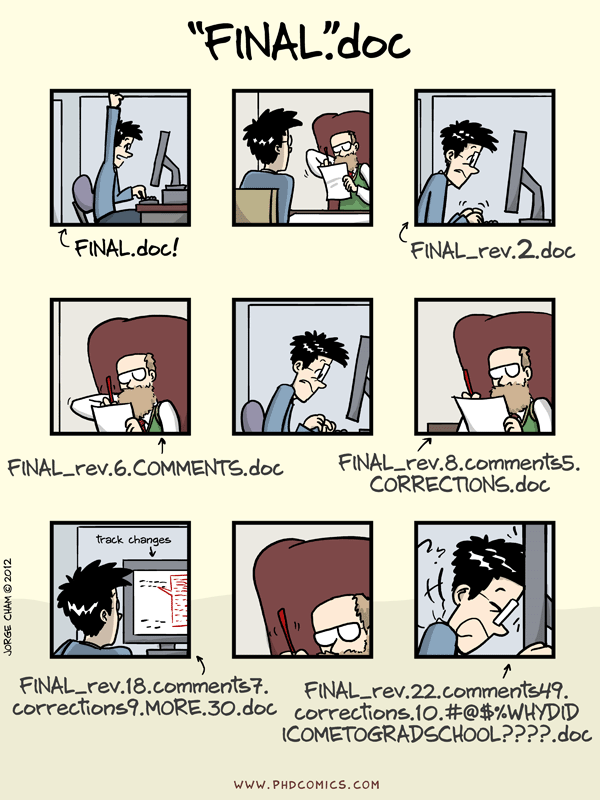 Piled Higher and Deeper by Jorge Cham (www.phdcomics.com)
PhDComics.com is popular amongst postgraduate students, as is Inger Mewburn's The Thesis Whisperer. While the two are wildly different in style – PhD Comics is a light-hearted 'webcomic' about the trials of postgraduate study while The Thesis Whisperer is a 'from the trenches' styled blog – the two sites retain a common goal of providing support to a community whose individuals often report feeling disconnected and even disheartened by the sometimes arduous nature of postgraduate work.
...more
Scope
The Australian edition of Global Media Journal invites the submission of essays and research reports that focus on any aspects in the field of Communication, Media and Journalism. We are particularly interested in articles that explore some of the following themes:

Media and Democracy
Children and Media
Grassroots and alternative media
Media Law and Ethics
Civic Journalism
Peace Communication
Ethnicity and the media
Political economy of communication
Film and Media
Media Audiences
Media Policies
Media, Citizenship and Democracy
Communication and Cultures in Conflict
Theories of Communication
Media and Globalisation
---
Australian Media Monitor
* This article was originally published on The Conversation. Read the original article.
FactCheck: is Australia's level of media ownership concentration one of the highest in the world?
Australia's level of media ownership concentration is already one of the highest in the world. – Shadow minister for communications, Michelle Rowland, press release, November 8, 2016.
The government's Broadcasting Legislation Amendment (Media Reform) Bill 2016 proposes cutting a rule that stops commercial TV networks from broadcasting to more than 75% of Australians. The House of Representatives passed the bill, which will now go to the Senate.
Labor has said it supports repealing the 75% reach rule but opposes changing the "two-out-of-three rule", which prevents companies from holding a controlling interest in more than two firms that operate television broadcasting, radio broadcasting or newspaper publishing in the same region.
Labor's shadow minister for communications, Michelle Rowland, said repealing the two-out-of-three rule would reduce "the diversity of voices across the media landscape".
She said Australia's level of media ownership concentration is already one of the highest in the world.
Is that true?
...more
---
Disclaimer
The views, opinions or positions expressed by the authors and those providing comments are theirs alone, and do not necessarily reflect the views, opinions or positions of Global Media Journal - Australian Edition or editorial staff thereof. Global Media Journal - Australian Edition make no representations as to accuracy, completeness, currentness, suitability, or validity of any information on this site and will not be liable for any errors, omissions, or delays in this information or any losses, injuries, or damages arising from its display or use.